Acid Resistant Bricks Supplier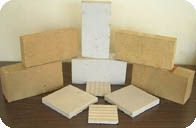 Business Type
Manufacturer, Exporter, Supplier, Distributor
MgO Content (%)
0.1
CrO Content (%)
0.002
SiC Content (%)
1.2-1.4
Click to view more
Our entire range is value for money, as it is quality guaranteed, sold after a string of quality control tests, and is relied on by many. By making use of quality packing material, we are able to ensure that the orders will remain free from damage during transit. Also, our expert packing personnel strictly check the entire lot before final dispatch.
Details
Properties
Unit
Class-I Bricks
Class-II Bricks
Application
Water Absorption
% Max
2
4
Chemical Process Floor, Chimneys, Tanks etc.
Flexural Strenght
Kg/cm2
100
70
Compressive Strength
Kg/cm2
700
500
Resistance to Acid
Loss in weight % Max
1.5
4
Looking for "
Acid Resistant Bricks

" ?