Casting Tundish System Manufacturer
Business Type
Manufacturer, Exporter, Supplier, Distributor
Use
Industrial
Condition
New
Material
Metal
Click to view more
The production of steel through continuous casting route has increased considerably as it provides a number of advantages over conventional ingot casting. Currently, the world steel production through continuous casting route is about 95%.

Details :
CCPL manufactures & supplies low cement castable ( Castable LC-70, Castable LC-70 LI) for permanent lining application, basic spraying mass along with application equipment for working lining. A specific quality basic spraying mass is selected depending upon the requirement of sequence heats.
CCPL provides precast prefired dams, weire & impact pad by using superior quality low Cement Castables and slide plates for flow control of steel.
CCPL also provides all black refractories (Mono block stopper, shrouds & SEN) to meet customers specific requirements.
In continuous casting, tundish is the last refractory lined unit through which molten steel passes into the mould. In the early stage, tundish was used as steel distributor and retainer. Later on, it has been made larger in capacity to stabilize the operation of high speed casting and improving the quality of steel with an emphasis on the removal of inclusions.

Various refractories associated with tundish are :
Tundish lining materials (Permanent and working lining)
Dams & Weirs
Impact pad
Flow control system (Monoblock stopper or tundish slide gate)
Pouring stream protection between tundish and mould (Shroud or SEN)
Tundish nozzle
Seating block
Graphical Images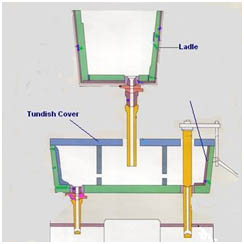 Looking for "
Casting Tundish System

" ?